API Connector for Google Sheets¶
The Dimensions API Connector is a Google Sheets add-on which permits to launch DSL queries directly from a Gsheets window. The results are transformed from JSON to a tabular format, thus allowing further manipulations using the usual Google Sheets tools.
The add-on is freely available on the G Suite Marketplace.
Note
The Dimensions Analytics API is subscription-only, so your Dimensions account needs to be activated for this service and subject to restrictions on use. Please send an email to supportapi@dimensions.ai if you have any questions.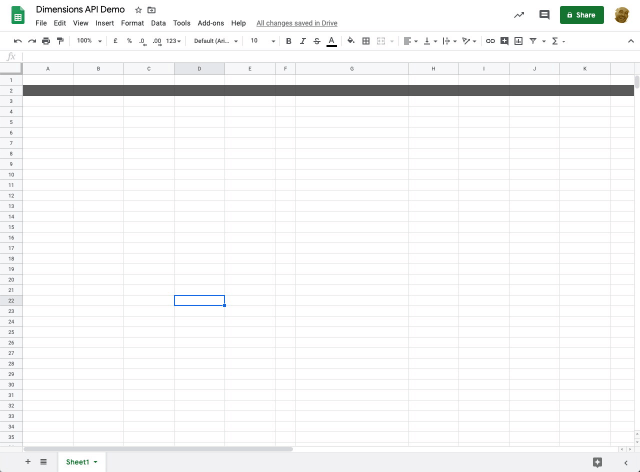 Installation Tutorial¶
Please see this YouTube video tutorial for a detailed walk through of how to find the add-on, how install it and use it to query the Dimensions API.
Dimensions API Connector Privacy Policy¶
This Notice applies to use of the Dimensions API Connector add-on for Google Sheets (the "API Connector"), which is part of the wider Dimensions product family, and supplements the Dimensions Privacy Policy.
The API Connector is designed to help subscribers to the Dimensions API make better use of the Dimensions API by using Google Apps Script to automate data handling processes within your Google Sheets. The API Connector runs entirely within Google Sheets, so your spreadsheet data does not leave your Google account.
Upon installation, the API Connector requests the following permissions: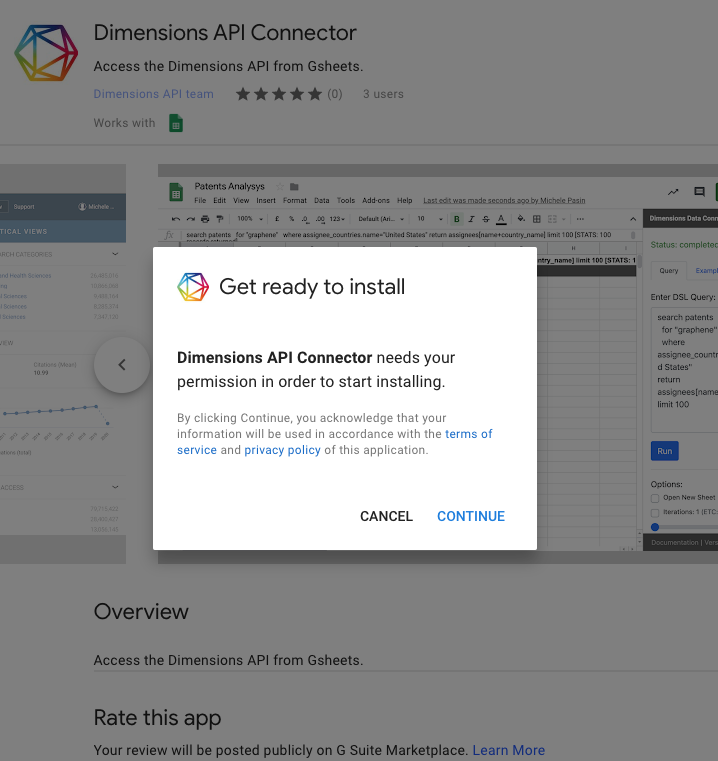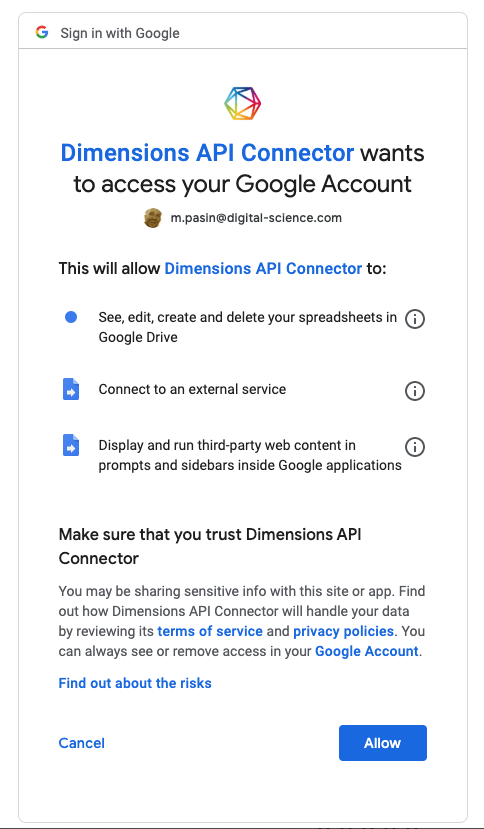 See, edit, create and delete your spreadsheets in Google Drive. This permission is required in order for the API Connector to import data (from the Dimensions API) into your spreadsheets, a process which involves reading and modifying those spreadsheets.

Display and run third-party web content in prompts and sidebars inside Google applications. This permission is required in order to create custom menus, dialogs and sidebars to make it easier for you to create and run queries against the Dimensions API.

Connect to an external service. This permission is required to fetch your Dimensions API subscription info and retrieve data from the Dimensions API. This is equivalent to the process of sending a POST query to the Dimensions API, as described in https://docs.dimensions.ai/dsl/api.html.
Log in credentials¶
The API Connector connects directly to the Google via oAuth 2.0, which enables you to login without sharing your access credentials with us. Your Google account data is not accessed, viewed, or stored by us. When logging into Dimensions in order to access the Dimensions API, the API Connector stores your login credentials only locally on your browser using the built-in services provided by Google Sheets APIs.
Dimensions Privacy policy / terms of use¶
Use of the API Connector is provided for free and subject to the Dimensions terms of use. It does not form part of any subscription for Dimensions and may be withdrawn at any time.
For comprehensive information on how we collect, process and use your personal information, please refer to the Dimensions Privacy Policy, which this notice forms a part.
Screenshots¶